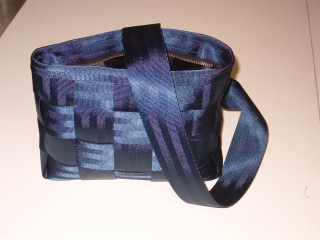 Backstory:
My wife came to me one day and said something to the effect of: "I want a purse made outta seatbelts. Make me one."Now, I had never heard of something like this much less seen one. Keeping this in mind I said I would get right on it. That first product was a few years ago and since I occasionally get requests for them from her friends I took the latest request as an opportunity to document the process.
Materials:
I originally crafted this with very mundane tools and materials. I will list what the current project uses and mention parenthetically what I used on the prototype, as it were
10 yds automotive restraint belt
6″ piece of grosgrain ribbon, suitably colored
~14″ zipper
Nylon/Polyester thread, suitably colored
~1/4 yd fabric for liner (I just chose cheap, black and silky feeling)
Strap hardware (plastic type is fine)
Riveting kit
Sturdy scissors
Upholstery pins
Hand stapler (a desk-type one is okay)
Commercial grade sewing machine (retail may work)
Piece of 2″ thick foam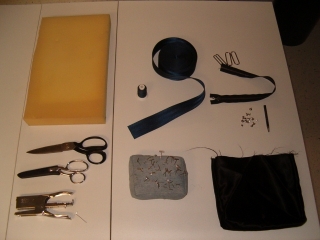 Pictured above are the supplies for project. The liner is shown already complete. It is composed of two (roughly) 8.5″x11″ panels joined on three sides by a long 3″ wide strip.

The foam should be cut in such a way that it is as wide as five sections of your seatbelt material (about 10 inches).

I purchased my initial riveting kit from a local leather-craft supply store.

The seatbelt could be from an old car, purchased from a local auto upholstery supply store, or various internet sources. Ten yards of it will give a bag about 8″x10″ with a 60″ strap. Besides the carry strap, no piece will be longer than about 24 inches.